Every child views ghosts, goblins, costumes, and saying trick-or-treat differently. Age appropriate exposure and participation can keep the fun in Halloween and reduce stress and fear. Here are a few of my favorite ghost busting, stress reducing tips for Halloween.
Masks:
If kids are afraid of masks, help them to understand that they are not real. Touching masks at a store and playing peek-a-boo style games can help them to realize they are make-believe. The more gruesome masks seem to come out later in the night so be sure to go trick-or-treating early.
Opt for no mask at all or face painting. Most children prefer face painting over hot sweaty uncomfortable masks. Don't overdo it. Keep it simple. Whiskers, butterflies, or thunderbolts.
Shoes:
Even if your child's costume comes with shoes convince them to wear their sneakers by encouraging them to try each one, walk around the house and pick which feels best to them. If they insist on the sparkle shoes or cowboy boots, bring a backup pair in a backpack.
Costumes:
Comfortable costumes that feel more like sweatpants and shirts will keep you in the stress-free zone. This can be accomplished when your child dresses up as their favorite animal, superheroes, Disney character, sports player, or career choice. ( I want to be a scientist or fireman when I grow up scenario.)
Trick-or-Treating:
If knocking on doors and saying trick-or-treat to neighbors isn't something your child wants to do, find a participation level that works for them. Answering the door with you and handing out candy can be the perfect solution. Trick-or-treating at a mall, YMCA, or even your local zoo can be a better atmosphere for your child. See if your church or neighborhood is hosting a trick-or-treat. Check children's hospitals and senior centers to see if they are offering any Halloween activities.
Decorations:
Pick feel good decorations like smiling pumpkins, friendly ghosts, scarecrows, orange and purple lights, or happy Halloween flags and banners. Collect leaves, acorns, berries, and mini pumpkins for your table centerpiece. Let children help you decorate.
Candy:
Let kids collect candy and sell it to you afterward. The motivation can be a trip to the store to purchase a puzzle, game, or to do an activity they love with the money they earn. Kids love this exercise and will spend hours sorting the candy into either an assigned value group or type of candy. Take your child to their favorite store and let them spend their candy money on a treat!
Still too much candy and not sure what to do with it? Let the Halloween fairies know that you have left them a bag of candy outside the door and they can pick it up to distribute to children that were unable to trick-or-treat.
Be Flexible:
Use Halloween to start your own family traditions or try something completely new. Go on a hike to enjoy the foliage, try night bowling, or come up with your own Halloween soup recipe.
All holidays present an opportunity for you and your children to define and celebrate it in a way that makes sense to you. New traditions can be implemented at any time so do not feel stuck or pressured by society or peer expectations. Empower children to make choices that feel good to them and honor their personalities. Consider purchasing our Younger or Older Children's Packages to help get your children ready for Halloween and the holidays.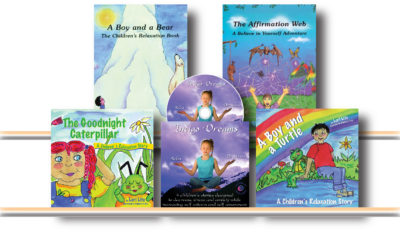 Lori Lite is a mom, founder of Stress Free Kids, and author. After helping her own children, Lori understood that her mission was to help other parents and children struggling with stress, anger, and self-esteem.  Her award-winning titles are considered a resource for parents, psychologists, therapists, child life specialists, and teachers. Lori's constant upbeat presence on social media has been awarded numerous accolades to include Top 100 Parenting Experts to follow on (@StressFreeKids) Twitter. Lori's sought after practical tips have been featured in hundreds of media outlets, including CBS News, CNN Living, WebMD, and Family Circle magazine.