A friend of mine was recently out with his two daughters when a stranger approached and kindly complimented him for taking the time to babysit his children. He was frustrated with this well-intentioned comment because as he put it, "I'm not babysitting, I'm parenting."
In many of today's families, dad's new role is much different than it was for previous generations of parents. In general, dads tend to be more involved in the day-to-day activities and responsibilities of running a household and raising children. In many situations, dad's new role is stay-at-home parent. This leads to one very important factor that we need to keep in mind – dads get stressed out, too.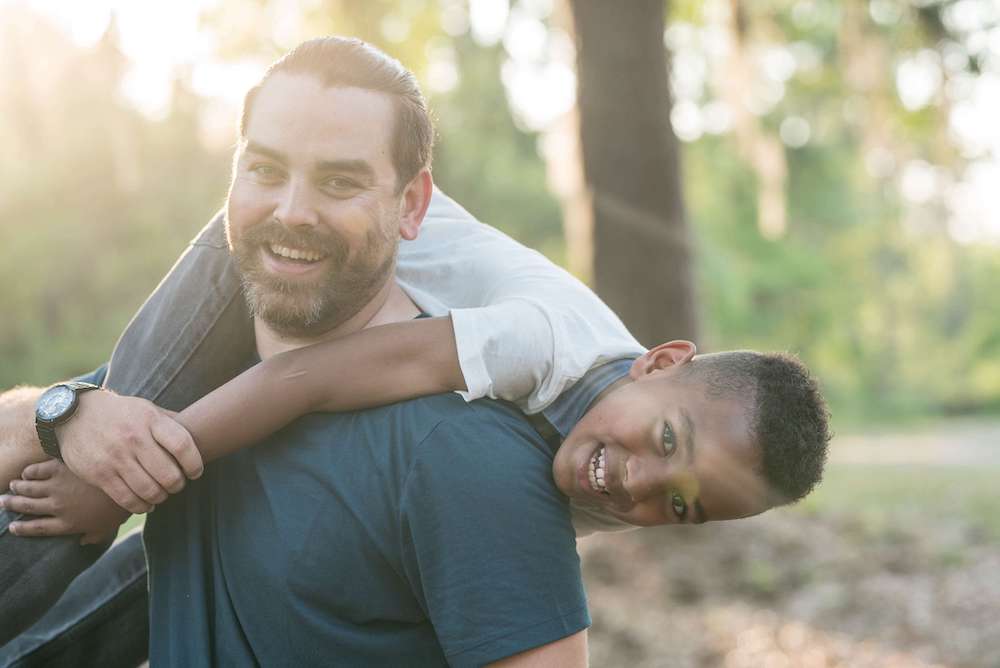 The happiness of a family depends on everyone in the home having their individual needs met. Parents often focus on meeting the various needs of their children while neglecting their own. This can lead to overwhelming stress and anxiety that impacts everyone, including the kids, who are modeling their emotional behavior after their most significant mentors – their parents.
In order to maintain inner peace (which contributes to a peaceful household), here are some ideas dads can use to decrease stress and anxiety while increasing positive interactions with their children.
Stress Management Tips for Dad's New Role
Exercise – Go for a walk, run, or bike ride. Join a gym that you can go to a few times a week or set up a home gym that meets your personal needs. It is scientifically proven that regular exercise is good for the body and the mind.
Healthy Eating – A clean diet makes you feel better, and busy schedules lead to bad eating habits. Take the time to cook healthy meals at home, and you will notice a difference in your overall physical and mental health.
Rest – Take a rest from everything for a short period of time. This can mean an actual nap, reading a book alone, or simply unplugging. Time alone is essential for rejuvenation.
Date – Go on a date with your significant other. Parents often forget to nurture their own relationship which can complicate communication at home.
Time with Friends – Whether it's a guys' trip, an evening out with friends, a day spent on the golf course or watching sports, take some time to remember that you are human and need to bond with people outside of your family unit.
Find a Hobby – Do something that brings you joy and helps take your mind off the daily stressors of work and family.
*Breathe* – The day to day stresses of parenting can sneak up on you. Take a few moments, as often as possible, to focus on your breathing. It relieves tension and is a great tool for calming down when frustrated or anxious.
Stress-Reduction and Family Bonding
Fly a kite or drone – Activities like these are engaging, get you outside in the fresh air, and create great memories for you and your children.
Play a game – Board games, video games, even simple games like 20 questions, are a fun and easy way to take a break and enjoy a little time with your kids.
Read together – Research shows that reading with your children is essential to their literacy. It also happens to be a very calm and relaxing activity.
Go hiking or camping – This can be much simpler than it sounds. Find a local nature trail for an hour-long hike or set up a tent in the backyard on a Saturday night.
Cooking – Making meals with your kids is a great way to spend quality time with them while teaching them about the importance of healthy eating. You can always throw in a math lesson if you're so inclined.
Including your children in your stress management strategies exposes them to healthy ways of handling stress. By sharing your hobbies you create bonding experiences and lasting memories. Children with strong bonds to their parents are better equipped to adjust to social and emotional ups and downs.