Note to Readers: I fell in love with this fall pumpkin activity. Creativity meets relaxation as my artist friend Rita mixes colors and imagination with stress management. 
Hey all you fantastic Stress Free Kids! Rita Ross and the PocketPeople here, making a quick aPPearance to share an easy and stress reducing fall project.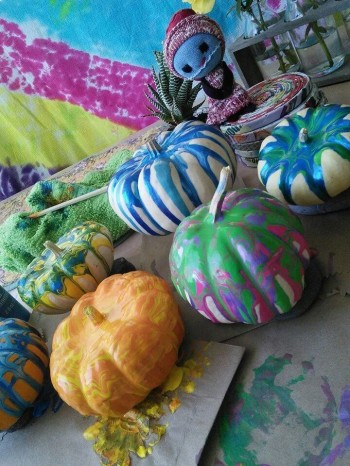 No knives required. No master art skills needed!  Let's get into the Zen:
You will need:
Craft paint – (I used acrylic) color choices!

Mini pumpkins!

Something to protect your workspace.
I simply prepared my table (you know- lay down old grocery sacks or paper plates or a paint cloth) then lined up my pumpkins and started squeezing paint starting at the stem. I took a lone chopstick I found in the drawer and just started playing!
You really can't get it wrong. Try it and feel how relaxing it can be to watch the paint ooze down the creases of the pumpkins. A-h-h-h-h-h.
Let them dry overnight and enjoy for the whole season.
That's it! Always use your common sense when crafting and ask a parent for help if you need a hand. 
Have fun kids and remember: Less stress is ALWAYS best. Much love from Rita Ross and the PocketPeople. 
Follow us on our Facebook page at Www.facebook.com/thepocketpeople
To purchase production PocketPeople please visit www.pocketpeopleavenue.com or Walmart.com
 If you live in NYC please visit the world famous FAO Schwarz toy store and ask for the PocketPeople:)
Ever wonder what happens to your missing socks? Rita Ross has been hand sewing one-of-a-kind dolls since 2009, crafting each one from odd socks and forgotten scraps. Thousands of dolls later,  she still sews every week and you can catch up with her on the ever so Positive PocketPeople facebook page! Look for FREE giveaways and even LIVE AdoPPtions for her One-of-a-kind designs. So much fun and all are welcome because at PocketPeople. ..
Everyone Matters!
For added relaxation, play Indigo Dreams: Kid's Relaxation Music during this fun activity.