'Tis the season to be jolly and joyous, but this year brought extra stress and anxiety! This year, the holiday traditions and festivities we usually enjoy will look very different from what they have in the past. Though we may not be able to celebrate Christmas in our usual way, we can still take the time to spread holiday cheer and tap into a little peace, joy, and goodwill. Here are some cozy and creative ideas to help you and your loved ones make the most of the holidays.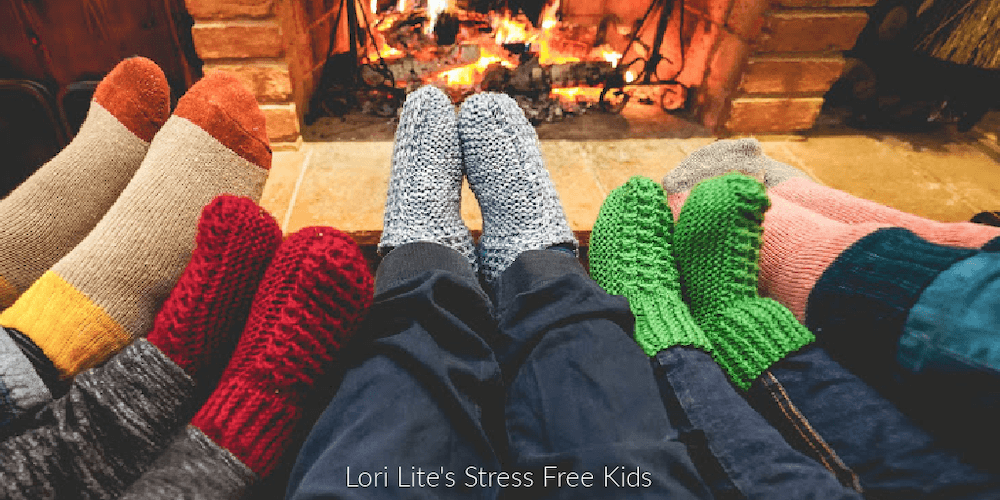 Make your space magical. You will most likely be spending a lot of your time at home this Christmas, so you might as well go all out with the decorating. It doesn't have to be more work if you make it a family activity. Turn your home into a winter wonderland, and everyone will feel more festive. Let the kids decorate their rooms or assign an area just for them to decorate.
Get creative and crafty. Get the entire family involved in some Christmas crafts and creative games like Reindeer Ring Toss or Holiday Charades. Bring back playing cards and introducing your children to board games from your childhood. Remember Trouble or Connect Four?
Practice breathing relaxation techniques. Taking slow deep breaths can help you and your children reduce anxiety, stress, and anger. Use this time together to introduce and use breathing techniques like focused belly breathing. Breathe in 2,3,4, and out 2,3,4. In 2,3,4, and out 2,3,4. For added fun, have your child lay down on their back and place a holiday stuffed reindeer, elf, or bear on your child's belly and watch it go up and down with their breathing. It should go up when they breathe in and go down when they let their breath out. (Sea Otter Cove is a story that introduces children to breathing.)
Listen to Christmas music. Having Christmas music on in the background can be a lovely way to create some merriment at home. If you have energetic kids who need an outlet, you can turn it up and have a dance party. Make a special playlist of your favorites to listen to throughout the season. Put instruments out for extra stress release and fun.
Host a virtual party. Everything happens over Zoom these days. If there are family and friends that you're missing this year, send out a link to a virtual party. Encourage attendees to wear their best Santa hat or elf ears. Plan some activities that can be done in this format, or simply take the time to catch up and toast the ones you love.
Watch holiday movies. With all the streaming services out today, there is an abundance of holiday movies to choose from. Let everyone have their pick and arrange a few movie nights with hot chocolate or any other favorite winter treat. Give each family member a chance to be in charge of the evening; pick the movie and plan the snacks.
Attend an outdoor/socially distanced event. Check your local paper or website for events that are taking proper precautions and get out of the house. There might be a holiday market to visit or outdoor decorations to see.
Do a holiday puzzle. Putting together a jigsaw puzzle can be a relaxing way to unwind on your own or get others involved in a group activity. Start a big puzzle that you can return to over several days when you need a break from the Christmas chaos.
Spread some joy. Decorate Christmas cookies or create care packages and deliver them to first responders, homeless shelters, or nursing homes. There are many people out there who are struggling right now, and for some, Christmas cheer is in short supply. Sharing something heartfelt, no matter how small, could be the gift that makes all the difference.
The best gift you can give to yourself and your family is to relax and make the most of it! Sure, this Christmas may be different, but it doesn't have to be disappointing. Traditions change, and we can adapt. Maybe this unusual holiday season is the perfect chance to make new Christmas memories.
Lori Lite is the founder of Stress Free Kids and has authored 12 books. Stress Free Kids: A Parent's Guide to Helping Children Build Self-Esteem, Manage Stress, and Reduce Anxiety has been named a Best Stress Management Book of All Time. Angry Octopus Color Me Happy, Color Me Calm has been awarded the Mom's Choice Award. Lori's content is featured in hundreds of media outlets, including CBS News, CNN Living, WebMD, The New York Times, Family Circle, and Parenting Magazine.