By Kerry Wekelo
I created If It Does Not Grow – Just Say No: Eatable Activities for Kids for children of all ages to discover how much fun they can have with fruits and vegetables.  As a mom, I want my kids to eat vegetables and other healthy foods. I found myself getting frustrated when they just weren't interested.  That's when I decided to try a fun-based approach, using enjoyable activities to encourage my kids to eat fruits and vegetables.  This simple activity book empowers kids to explore healthy eating and living while helping them see just how much better they will feel eating foods that support their energy.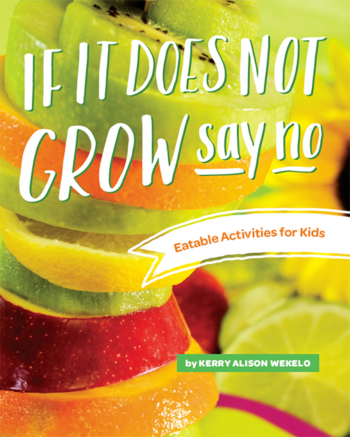 One of my favorite interactive ways to have kids try new foods is to plan a rainbow meal. My kids love this activity because they get to make the decisions, and they get excited about who will attend their meal. Below are the steps for you to guide your kids in creating their own rainbow meal:
Ask your kids if they want to play with food. Of course they will say yes!
Collect some different fruits and vegetables and use them as visual aids. Discuss how fruits and vegetables have beautiful colors. Have your kids name as many fruits and vegetables as they can think of in each color of the rainbow: red, orange, yellow, green, blue, and violet. (click to download worksheet).
Explain that eating a variety of colorful foods, in all colors of the rainbow, is an easy way to make sure you have a well-balanced diet to keep your bodies and brains happy and healthy. For instance, if you eat carrots one day, eat orange peppers the next. If you eat broccoli today, eat spinach tomorrow.
Ask your kids to use the list from step 2 to create a meal using food with all colors of the rainbow. Encourage them to have three fruits and three vegetables. Another option for future meal planning is to use all vegetables or all fruits.
Have your kids determine who they would invite to their rainbow meal. Family, friends, neighbors? To make it even more exciting, help them create an invitation to the rainbow meal. Be sure to set an actual date and time to build the anticipation. Encourage your kids to be creative with drawing or painting the invitations, using stickers, glitter, and other "add-ons." Lastly, deliver the invitations together.
Encourage your kids to assist with preparing the rainbow meal by bringing them to the store to select the produce. They are way more likely to at least try all the foods if they were a part of the selection and planning. Back at home, work with them to cut and cook as desired each of the fruits and vegetables. IMPORTANT: It is key to go through all the steps to complete the meal in order to empower the kids along the way. Sure, they'll make a mess, but that's part of the fun!
This meal might not be the most delicious one you've ever tasted, but I bet you'll find it's one of your most enjoyable.
Healthy eating doesn't have to be a chore for your kids or for you.  Make it fun and creative, and you will be building healthy habits for a lifetime.
Through articles, books, and programs, author Kerry Wekelo advocates for holistic health and intentional well-being for children and adults. She is also the mother of two amazing kids, the founder and visionary of Zendoway and Managing Director of Human Resources and Operations for Actualize Consulting, where she spearheaded and runs a successful wellness program. With If It Does Not Grow – Say No, Kerry adds healthy, mindful eating to the list of important life lessons children learn from her books. Look for Audrey's Journey, Kerry's children's book series focused on living with compassion and joy, and the Pile of Smile to give away free to children undergoing cancer treatment. To contact Kerry, visit her personal website via www.kerryalison.com. If It Does Not Grow – Say No: Eatable Activities for Kids via Amazon.