Birthday parties for kids and tweens can be an important social event. With a little planning parents can throw a stress free birthday party providing an environment that is fun, safe and stress free. Below are a few tips that will help you and your child plan a party to remember.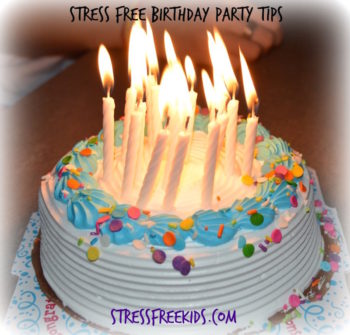 Tips for a stress free birthday party
So, it's birthday party night. I have two girls gossiping in the bathroom, one girl on video chat with her boyfriend, another one hiding in the storage room… crying that nobody likes her, fighting over whose sleeping bag is next to whose, and who's going to sit next to who on the way to the pizza place… arguments over which movies to watch. The birthday girl is not happy; she's stressed out. So, what's a mom to do?
Set Boundaries – Make a cute little sign with a smiley face that says, "You are entering the 'no drama zone.'" The girls will repeat it, they'll laugh and they'll get your message.
Manage Technology – Do yourself a favor, unplug the computers and collect cell phones at a certain time.
Limit Choices – Choose your movie choices with the birthday kid ahead of time and keep your choices to a minimum.
Organize – Give your adult drivers a list of names of selected children to go in their car. Tell the kids that there will be no negotiations and no special requests.
Be Present – Keep an eye out for kids that are feeling left out.
Provide Guidance – Gently guide your child and the other children through social challenges.
Smile, Laugh & Be Optimistic – Take advantage of this opportunity to show kids it's okay to laugh at themselves.
And remember, if you've been working all along to build your child's self-confidence and self-esteem, when you send them off to a birthday party you'll have much less to worry about.
Try our Indigo Dreams Series and build self-confidence and self-esteem in children, teens and adults.
Stress Free Kids founder Lori Lite is a freelance blogger, social media strategist, parenting expert, and successful entrepreneur. Her line of books and CDs are designed to help children, teens, and adults decrease stress, anxiety, and anger. Ms. Lite's books, CDs, and lesson plans are considered a resource for parents, psychologists, therapists, child life specialists, teachers, doctors, and yoga instructors. Lori's award winning books received national attention on Shark Tank and her sort after accessible tips have been featured in hundreds of publications to include: CNN Living, Real Simple Magazine, USA Today, Family Circle, Working Mother Magazine, and Web MD. For more information visit  Stress Free Kids and for daily advice follow Lori on Twitter and Facebook.